Long-distance relationships can be incredibly rewarding, yet maintaining intimacy from miles apart is a challenge many couples face.
But fear not lovebirds I am here to help you improve your sexual life!
With today's technology and a touch of creativity, you can keep the passion alive and thriving. In this article, we'll explore a variety of sex gifts that can enhance your long-distance love life and bring you closer together, despite the physical distance.
Let's dive into various types of sex gifts for people in long-distance relationships. From communication and setting the mood to high-tech toys and sensual care packages, there's something for everyone.
So, grab a cup of coffee, cuddle up with your favorite blanket, and let's explore the world of long-distance sex gifts together.
Romantic Sex Gifts for Long-Distance Relationships
5 Best Sex Gifts for Long Distance Couples: Embrace the Power of LDR Sex Toys
Advancements in technology have opened up a world of possibilities for long-distance couples. High-tech sex toys and gadgets allow you to share pleasure with your partner, even when you're miles apart. Let's explore some of the most innovative app-controlled sex toys.
Enjoy up to 50% discount for the next few days!
Teledildonics, also known as smart sex toys, are taking the world of long-distance intimacy by storm. These cutting-edge devices can be controlled remotely and even integrate with virtual reality platforms, allowing couples to share immersive sexual experiences. With teledildonics, you can explore new dimensions of pleasure and connect with your partner like never before.
Now, Lovense, the undisputed leader in the LDR sex toy market, makes our favorite couples' sex toys and gifts.
We were both blown away by the toys' responsiveness and the fact that everything transpired in real-time.
The Lovense Max 2 and Nora toy set may seem pricey, but trust me—money it's well spent.
Nora is a rabbit vibrator that can be adjusted to one of three intensities. The movable head and vibrating arm were a wonderful match for my physique, stimulating the clitoris and G-spot simultaneously.
Three contraction levels and seven vibration patterns give the Max 2 a highly realistic masturbating experience.
The Lovense app or physical movement can be used to command either toy:
Increase the force of your thrusts into the Max to increase the speed and strength with which Nora's head rotates.
Increasing Nora's speed and vibrations will hasten Max's contractions.
The best part, though, was that we could optionally record each session's actions (along with the audio) and then play them again anytime we want!
You can utilize the Lovense app's texting and calling features, or you can use another video chatting service and just use the app to link the toys together if you like.
The battery lasts a long time, the response time is lightning fast, and the motions are silky smooth and intense, maximizing your pleasure.
This is definitely one of the greatest sex gifts for long-distance couples. It is a unique way to give your partner an orgasm from anywhere in the world!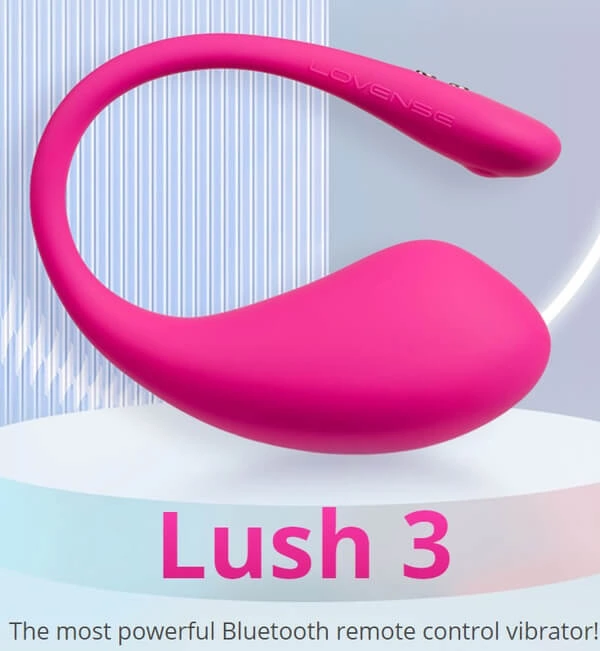 Enjoy up to 48% discount today!
App-controlled vibrators enable you and your partner to control each other's pleasure from a distance. These innovative toys connect to your smartphones, allowing you to tease and tantalize one another through an app. With customizable vibration patterns and intensity levels, app-controlled vibrators are perfect for adding excitement and variety to your long-distance love life.
We particularly like the Lush 3 by Lovense.
It is a high-tech long-distance vibrator that builds on the success of the first Lush.
In comparison to the original Lush, the vibrations produced by the Lush 3 are much stronger, leading to more intense climaxes.
The Lush 3 is contoured to touch your G-Spot while stimulating your clitoris with ease, thanks to its smooth silicone construction.
The Lush 3's lengthy battery life is one of its best characteristics. It can go up to four hours without being recharged. The Lush 3 is the only vibrator on the market capable of giving you the most pleasure for the longest period of time.
For the Lush 3 to work with the Lovense app, Bluetooth must be enabled on the device. If you and your partner are separated by a great distance, your partner can use the app to adjust the strength of the vibrations sent to you. You can download the app on their site.
Onyx+ and Pearl 2 Couples by Kiiroo Interactive Sex Toys: Synced Sensations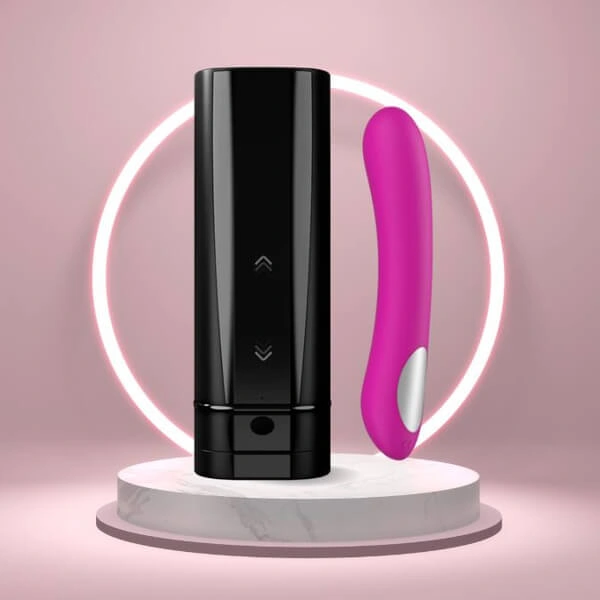 Unlock a special discount on your first order!
Interactive sex toys can take your virtual intimacy to the next level. These devices can be synced together, allowing you and your partner to feel each other's movements in real-time. Whether it's a touch-sensitive vibrator or an interactive stroker, these toys create a lifelike experience that can help bridge the physical gap between you and your loved one.
Kiiroo is yet another well-known manufacturer of LDR sex toys, and their offerings are consistently high-quality.
The skin-like texture of these unique toys was a hit with us both, and the improved construction over the previous version was also much appreciated.
The Pearl 2 is a vibrator in the traditional form that focuses on stimulating the G-spot. Its 7.5-inch length and nine adjustable vibration speeds make it a good fit for most women.
The Pearl is a high-quality remote vibrator, but personally, I found more enjoyment from using the Nora by Lovense.
Yet, my BF can't get enough of the Onyx+. Since it's a male masturbation sleeve, comparisons to the Max 2 sex toy are inevitable, but Kiiroo has made some impressive advancements:
There are ten internal rings in the Onyx+ that generate a natural suction sensation, and the toy also features two air channels. Max claims that, depending on the settings, it gives him the same sensation as penetration or oral sex!
Do you want to know the best part? It can be timed to adult movies so that you can act out scenes from them. Great for those couples who don't mind using porn to spice things up in the bedroom!
As an added bonus, the Onyx+ is so lightning-quick that it's as if he's right inside your head.
Wearable Vibrating Toys for On-the-Go Pleasure: Discreet Delights
Wearable sex toys offer a unique and exhilarating way to maintain intimacy in LDR. These devices can be worn discreetly, allowing you to share pleasure with your partner throughout the day. From vibrating panties to remote-controlled cock rings, wearable toys can add a thrilling element of surprise to your LDR.
Here are our four favorites:
OhMiBod Esca 2 Wearable Massager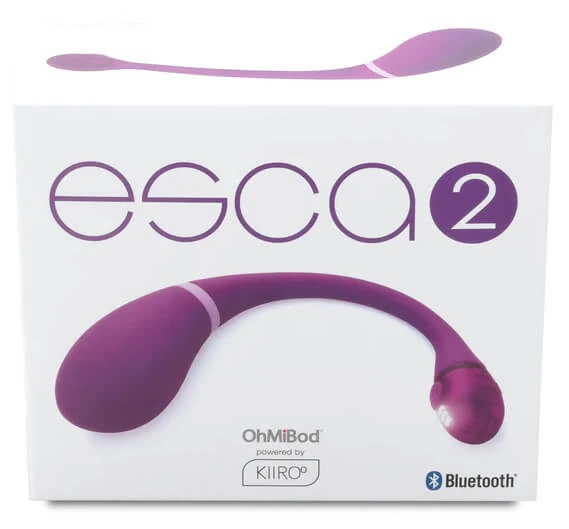 Check out the OhMiBod Esca 2 Powered by Kiiroo. What's really cool about it? It has an LED light at its tip which can sync with the vibrations, making shared moments even more interactive. If you're going for a low-key kinky experience, no worries, you can turn the light off.
It's super lightweight at just 1.9 ounces but packs a punch with its powerful yet quiet motor. Plus, it easily connects with the OhMiBod® Remote App or the FeelConnect App via Bluetooth.
And guess what? A quick 90-minute charge keeps the fun going for up to 3 hours!
Sync 2: Wearable Vibrator For Women by We-Vibe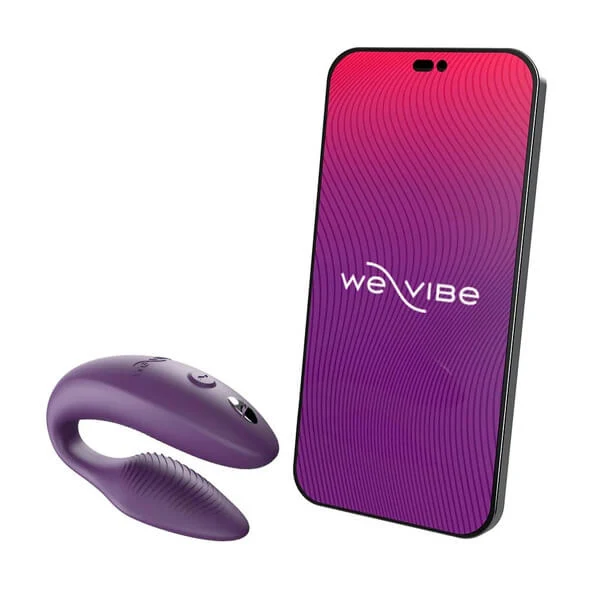 The Sync 2 by We-Vibe is the ideal wearable choice for women who value privacy and convenience. It's waterproof, so whether you want to have pleasure in the shower, in the bath or out and about.
Your lover can control the speed and the 10+ vibration styles using the We-Connect app, or get creative and design your own by adjusting the strength and frequency!
The We-Vibe crew went above and above the norm by including a nice silk storage pouch and lubrication pack in addition to the usual instructions and charging cable.
You'll appreciate the Sync 2's low-battery alert if you've ever had a toy die in the middle of the fun.
Hush 2: Remote Control Butt Plug by Lovense
Enjoy up to 50% discount!
The Hush by Lovense, in case you were unaware, was the first teledildonic butt plug ever created. It's also one of the most potent, so it's great if you want intense vibrations.
If you and your partner are separated by a great distance, the Lovense Remote app will allow your companion to control the vibration modes of your mobile from their own device.
Lovense's R&D team spent a lot of time perfecting the Hush 2 to make it a top-notch wireless butt plug and easy to use. The ergonomic base keeps it securely in place and makes it easy to remove, while the spirals on the neck are designed to trap lubrication. The powerful motor will ensure you a maximum of sensations!
If this is your first time trying out a device like this, you'll be relieved to know that the Hush 2 is available in four sizes.
Edge 2: The Prostate Massager by Lovense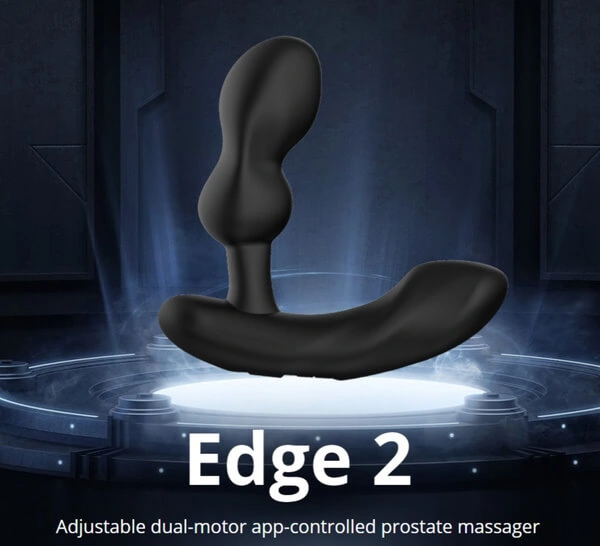 50% discount finishing soon!
The Edge 2 by Lovense is a dual motor, fully-adjustable massager that is sure to satisfy the massage needs of most guys.
Using the Lovense Remote app, your significant other may operate your device from across the room or throughout the world.
I sometimes sync the Edge with my boyfriend's preferred music via the accompanying app for a one-of-a-kind listening experience. 😀
The Edge 2 is built to be worn comfortably for extended periods of time, making it ideal for covert fun miles away from home. It is also really silent. Keep a straight face while your coworker constantly interrupts you by buzzing you on the phone.
Sensual and Arousing Care Packages: Thoughtful Gifts to Ignite the Senses
Sending a sensual care package to your long-distance partner is a thoughtful and romantic way to express your love and affection. These carefully curated bundles can set the stage for intimate experiences, even when you're apart. Here are some romantic ideas for long-distance relationships to help you create the perfect sensual care package as a gift to surprise your loved one.
Including massage oils and candles in your care package will provide your partner with the essentials for a calming and sensual night. Choose scented oils and candles that evoke your partner's favorite fragrances, creating an atmosphere that's both relaxing and seductive. Encourage your partner to unwind and indulge in a self-care session, or offer to guide them through a virtual massage via video call.
Surprise your partner with sexy lingerie or intimate apparel that you'd love to see them wear. Select items that cater to their taste and preferences while also showcasing your affection and desire. You can even plan a special virtual date night where you both dress up and admire each other's outfits, making the occasion feel more intimate and romantic.
Incorporate sexy board games like truth or dare or card decks into your care package to encourage playful interaction and exploration. These games often involve naughty challenges, risqué questions, and intimate rewards, which can help you and your partner discover new fantasies and desires. Schedule a virtual game night and enjoy a fun, sensual experience together.
Erotic Novels and Films: Fuel the Flames of Desire
Adding erotic novels or films to your care package can inspire passion and provide a shared experience for you and your partner. Choose titles that cater to both of your tastes or explore new genres together. Discuss the stories or scenes that resonate with you, and use them as inspiration for your own long-distance encounters.
DIY Love Coupons: Customize Your Affection
Create personalized love coupons for your partner to redeem during your virtual date nights or future in-person visits. These coupons can range from sensual massages and intimate conversations to more explicit acts. The customization allows you to tailor the experience to your partner's desires, showing that you're attentive and invested in their pleasure.
If you don't have the creativity it takes to make your own DIY coupons, you can buy these sex vouchers. They are perfect for couples wanting to spice up their next romantic encounter.
Since you'll be doing the printing yourself, you have the option of using high-quality paper or keeping things as basic as you choose. 8 blank cards and 21 vouchers for services like "A quickie," "A sexual act of your choice," and "A sexy striptease" are included. When you haven't seen each other in a while, it can be uncomfortable. If you want to set the mood for a good time, these sex vouchers are a fantastic idea.
Virtual Sex Workshops & Classes: Expand Your Horizons Together
Investing in virtual sex workshops and classes is an excellent way for long-distance couples to grow together and explore new aspects of their sexuality. By learning from experts and participating in interactive sessions, you can strengthen your connection and enhance your intimate experiences.
Online Sex Education and Workshops: Learn the Ropes
Participate in online sex education workshops to gain new insights, techniques, and perspectives on your intimate relationship. These workshops often cover a wide range of topics, from sexual health and communication to kinks and fantasies. By learning together, you and your partner can broaden your understanding of each other's desires and hugging needs, ultimately enriching your long-distance love life.
Couples' Communication Courses: Strengthen Your Bond
Effective communication is the cornerstone of any successful relationship, especially when it comes to long-distance love. Enroll in couples' communication courses to improve your ability to express your feelings, desires, and concerns with your partner. These courses can help you build a stronger emotional connection, making it easier to navigate the challenges of maintaining intimacy from afar.
Erotic Art and Photography Classes: Capture Your Passion
Explore your creative side by taking erotic art or photography classes with your long-distance partner. These classes can teach you how to capture the beauty and sensuality of the human form, allowing you to create intimate mementos for each other. Collaborate on projects, share your artwork, or even use your newfound skills to create personalized gifts for one another.
By participating in virtual sex workshops and classes, you and your partner can grow together, discover new aspects of your sexuality, and deepen your connection. Embrace these learning opportunities as a chance to enhance your long-distance relationship, making it even more rewarding and satisfying.
Communication & Setting the Mood: Ignite the Spark from Afar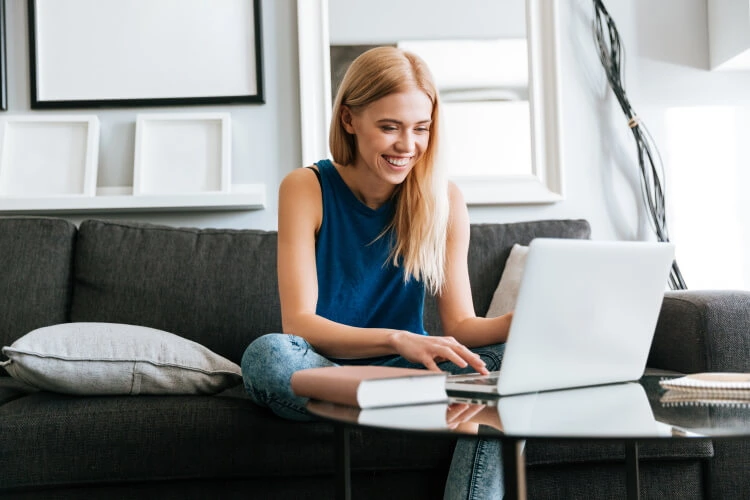 Building and maintaining intimacy in a long-distance relationship begins with communication. Through open conversations and flirting, you and your partner can create a comfortable space to explore your desires and set the mood for steamy, virtual encounters.
Sexting and Sexy Messages: The Art of Digital Seduction
Sexting is an excellent way to share your fantasies, desires, and compliments with your partner, keeping the flame alive even when you're apart. If you're new to sexting, start by discussing boundaries with your significant other and remember that consent is key. Get creative with your words, experiment with emojis, and send your LDR partner dirty talks or sexy messages that'll make their heart race.
Sharing Intimate Photos and Videos Safely: Visual Pleasures
Visual stimulation can be a powerful way to maintain intimacy and attraction. Sharing suggestive or erotic photos and videos with your partner can add excitement to your LDR. Be sure to discuss each other's comfort levels beforehand and use secure apps or platforms to exchange your intimate content privately and safely.
Erotic Literature and Audio Erotica: A Feast for the Imagination
Dive into the world of erotic literature and audio erotica to create a shared fantasy with your partner. Choose stories that resonate with your desires or explore new genres together. You can read or listen to the content simultaneously or take turns narrating passages to each other. The shared experience will not only enhance your emotional connection but also spark new ideas for your intimate moments.
Virtual Dates and Sexy Games: Playful Passion
Plan virtual dates to maintain a sense of closeness and fun in your relationship. There are many fun activities and games you can do in LDR. You can watch a steamy movie together, play online sex-themed games, or create your own naughty challenges. Use video calls to make the experience more interactive, and don't hesitate to dress up or create a sensual atmosphere to set the mood.
By focusing on communication and setting the mood, you and your long-distance partner can create an environment that fosters intimacy and passion. Experiment with different methods and find what works best for you both, turning the challenge of distance into an opportunity for growth and exploration.
FAQs
What is the best sex gift for long distance relationship?
Sex toys with remote control like the Max 2 and Nora are designed specifically for long-distance couples. These can be controlled remotely by a partner, allowing for intimacy and pleasure even when physically apart.
How do you keep sex interesting in a long-distance relationship?
To keep sex interesting in a long-distance relationship, be open to experimenting with different methods of communication, high-tech sex toys, sensual care packages, and participating in virtual workshops and classes. Variety and openness can help maintain excitement and intimacy.
Is sex good for long-distance relationship?
Sexual intimacy is beneficial for long-distance relationships as it helps maintain emotional closeness and satisfaction. Utilizing various methods to stay sexually connected, such as sharing fantasies or using remote-controlled sex toys, can foster intimacy, trust, and emotional wellbeing in the relationship.
How Do Long Distance Couples Deal with Sex?
Long-distance couples manage their sexual relationships by leveraging digital platforms for communication and intimacy. Many use video chatting services, sexting, and remote-controlled sex toys to engage in sexual activities and maintain their sexual connection despite the geographical barrier.
How to Seduce My Long Distance Partner?
To seduce your long-distance partner, prioritize emotional and mental connection. Regular communication, surprise messages or gifts, and planning virtual dates can enhance intimacy. Explicit consent and comfort with sexual expressions, such as sexting or intimate video calls, also play a crucial role in maintaining a sensual and respectful relationship.
How Can I Be More Intimate with My Boyfriend Long Distance?
Boosting intimacy in a long-distance relationship involves regular communication, emotional support, and creative expressions of love and desire. Plan virtual dates, share thoughts and feelings openly, and explore digital platforms or devices that can help maintain your sexual connection and mutual emotional support.
How to Enjoy Sex in a Long-Distance Relationship?
To enjoy sex in a long-distance relationship, consider utilizing technology to maintain intimacy. Video chats and phone calls can be used for sexual communication and exploration. Additionally, some companies offer interactive sex toys that can be controlled remotely, helping couples experience sexual intimacy from afar.