Long-distance friendship lamps appeared on the market a few years ago and changed the way LDR couples communicate.
You can connect two lamps for more intimate communication, or create a group for friends and family who live apart but like to stay in touch with minimal effort.
The simple touch-technology allows you to send signals of love to your close people and let them know you are thinking about them.
A single touch activates all connected lamps and makes them shine in your color of choice. When another touches the light on their end, the color changes across all lamps.
No more time-consuming video calls and chatting. Sometimes a light signal says a lot more than hours and hours of conversation!
Friendship Lamp by FriendLamps.com
This is a simple, elegant-looking small table lamp created by FriendLamps.com. It's a perfect gift for your partner or friends/family if you want to show just how much you miss them.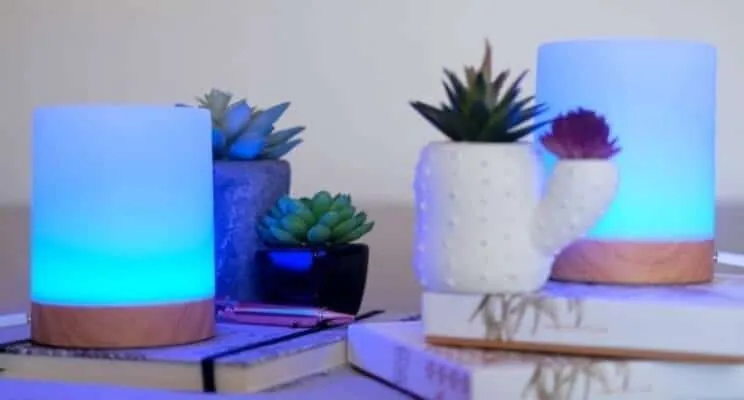 Look, size, and design of the FriendLamp
The Friendship Lamp's minimalistic design will allow you to incorporate it into your house or apartment easily.
It has a clean cylindrical form and includes a wooden base and an acrylic lampshade. It also includes a MicroUSB charging port at the bottom, and a sensor plate at the top that uses touch to send the light signals.
The lamp is very compact, with 3.5″ in diameter and 4.7″ in height.
This particular friendship lamp uses LED light and offers many different colors you can choose from.
In the package, you will also find a USB cable and a setup guide.
How it works
You can connect two or multiple lamps in one group and let the people with a special place in your life know that you are thinking of them.
Once activated with a tap, the friendship lamps keep glowing for 30 minutes, slowly letting the light fade away.
When your partner/friend sees your signal and touches their lamp, both lamps will start emitting their color.
Like a picture can speak a thousand words, so can a long-distance light signal. Thanks to modern technology, a single touch can make someone feel loved and appreciated!
How to set up the long distance Friendlamp
These friendship lamps are simple and easy to use. All you need is access to WiFi and a power socket:
Connect the lamp to a USB charger or any device with a USB port like a laptop.
When the lamp is powered, it will first turn blue.
After the lamp turns red, you can open your network connections and find the new WiFi network named "FriendLamp_xxxxx"
The next step is to configure the Wi-FI. You will need to sign in to your home network and enter the password.
In the last step, you need to enter your allocated GroupID, which you received via e-mail. All the lamps that you want connected in one group must use the same GroupID. You can also generate a new GroupID on their website.
The company also includes a detailed setup guide in the package and a link to their online instructions and support, so you shouldn't have any trouble connecting the lamps.
Features
FriendLamp.com's friendship lights are powered through a USB cable, so you don't have to worry about compatibility issues across countries or running out of battery.
Once you are all set, invite your partner or friends and family to join the same group. The number of lamps you can connect with the same GroupID is unlimited.
Now that you are all connected, you can choose from the multiple preset colors and assign a different color to a different person. This way, if there are more than two lamps connected, you can easily say who is thinking about you.
FriendLamps.com offers every buyer a 12-month manufacturer warranty. In case your lamp stops working without any obvious reason, and it hasn't been tampered with or intentionally damaged, they will arrange for a repair or replacement at no added cost.
Filimin's Classic Design Friendship Lamp
The Filimin's Classic Design is the original long-distance friendship lamp. It has a very clean and compact shape, which goes great with every home's style and design.
Plus, it's super easy to set up!
We Love
256 colors to choose from
LED lasts 40.000 hours
Extremely easy to set up and use
It doesn't use any batteries
You can connect an unlimited number of lamps together
Connects with WI-FI
Handmade in Kansas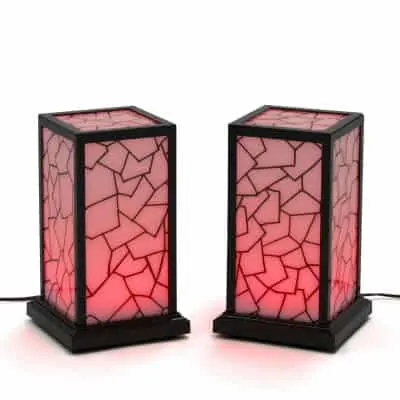 Look, size, and design of the product
Filimin's Classic Design Lamp has a gorgeous look:
It's shaped like a lantern and comes with a black acrylic base and trim, white sides with a black mosaic-like pattern, and a multi-colored LED bulb.
Thanks to LED technology, you have 256 colors to choose from, ranging from fiery reds and magenta pinks to neon greens and azure blues.
The classic design is very compact at 4.75″ L x 4.75″ W x 8″ H in size.
You will also find a few electrical components included in the package that you will use to connect the Filimin lamp with WiFi and power.
How it works
Long-distance relationship lamps are a fantastic way to break the distance and keep the love alive, especially in times of social isolation!
But how do long-distance relationship lamps work?
Well,
Once you've connected them according to the instructions (more on that later), touch the lamp with your hand, and it will light up your partner's lamp in your chosen color. It's as simple as that!
After letting your loved one know you're thinking about them, the light will keep shining between 30 minutes to 24 hours, depending on the settings you choose.
It also works the other way around:
The moment your partner touches the lamp on their side, your light will start emitting their color.
How to set up the Classic Friendship Lamp by Filimin
Filimin's Classic Design Long-Distance Lamp is extremely easy to use and set up:
First, register your purchase on Filimin.com.
Then, connect your lamp to a WiFi network or hotspot (make sure to have access to your router).
Finally, add all lamps to a group and set the color, fade time, and sleep times.
That's it!
Features
While long-distance lamps are great for couples, you can connect more than two lamps to stay connected with friends and family too.
The number of long-distance friendship lamps you can connect together is unlimited, but they all need to join the same group for this to work.
In case you were wondering, one lamp can only be part of one group at a time.
You can choose from the 256 colors that your Filimin lamp is preset to include, and assign a different hue to each member of the group. That way, you will easily recognize who exactly was thinking about you.
The Classic Filimin Lamp is a plug-in device, and it doesn't use any batteries.
Regarding the warranty, the guys at Filimin are almost impossible not to love!
They are giving everybody a Forever Guarantee:
As long as you don't intentionally damage the touch lamp, they will either fix your device, send you a new one, or issue a refund of the money you paid.
Keep in mind, though:
All Filimin lamps are built to North American electronic standards, and you might need an extra converter to start using it if you come from a country other than the US or Canada.
Filimin's Modern Design Friendship Lamp
Filimin's Modern Design Friendship Lamp is a newer version of this already amazing device.
All the great features of the classic lamp are now combined with an even simpler and cleaner look!
We Love
Modern and minimalist look
256 colors to choose from
LED lasts 40.000 hours
Extremely easy to set up and use
It doesn't use any batteries
You can connect an unlimited number of lamps together
Connects with WI-FI
Handmade in Kansas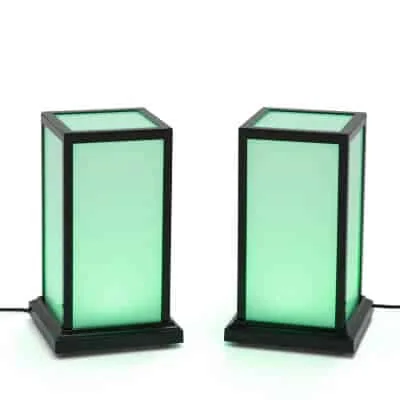 Look, size, and design of the product
The awesome guys at Filimin came up with a minimalistic design for their Modern design lamp that should be to everyone's taste:
They kept the lantern form of the original model but changed the look of the lampshade. It's cleaner without any patterns and designs, which makes it perfect for those who prefer a more minimalistic style.
It comes with the same components and dimensions (4.75″ L x 4.75″ W x 8″ H) as the classic model mentioned above.
It also uses the same LED technology, so you can pick your favorite hue from the hundreds of colors that the Filimin lamps are preset to display.
How it works
All Filimin long-distance touch lamps work on the same principle:
A single touch will make all connected lamps light up, letting your loved ones know you have been thinking of them. When someone touches their lamp, all connected lights start emitting their preset color.
How to set up Modern Design Friendship Lamp by Filimin
Like everything else about the Filimin long-distance friendship lights, setting them up is also pretty easy:
Plug the lamp
Log on to Filimin.com
Create a profile and register your lamp
Connect it to a stable WiFi connection
Invite all lights you want to connect to join your group
Features
Filimin's Modern Design Friendship Lamp is very similar to the Classic version:
Use the Filimin website to choose your favorite shade, adjust the sleeping times, and the brightness, so you are not disturbed during work or in your sleep.
The LED lights give you 256 colors to choose from, so if you don't like how particular color looks in your room, you can easily switch to one that's more to your taste.
Like the Classic Design Lamp, the Modern version isn't rechargeable as it doesn't use batteries.
It also comes with a pretty awesome Forever Guarantee!
Filimin's Mid-Century Design Friendship Lamp in Wood
The Filimin's team decided to redefine the original long-distance relationship lamp completely:
The new version is made of high-quality materials like wood and aluminum. It also comes with all standard electric components of the classic lamp and a LED bulb.
We Love
Original wooden look
256 colors to choose from
LED lasts 40.000 hours
Extremely easy to set up and use
It doesn't use any batteries
You can connect an unlimited number of lamps together
Connects with WI-FI
Handmade in Kansas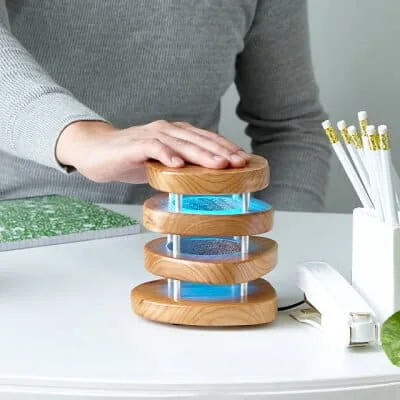 Look, size, and design of the product
The wooden version has different dimensions than the Modern and Classic lamps:
This one is 5.5″ x 5.0″ x 5.25″ in measurements, slightly wider at the base but almost 3″ shorter.
It is made of four wooden pieces stacked on top of each other with slight gaps in between. The new design allows the light to create a unique pattern because of the way the wooden parts are spaced apart.
How it works
The wooden lamp uses the same touch technology as the Classic and Modern models reviewed above. Why change something so simple and user-friendly?!
So:
Follow the instructions to connect the lamp, give it a gentle tap, and see all the connected lamps light up in your chosen color!
When your partner receives your signal and touches the lamp on their side, your light will start emitting their color.
If no one responds to your message, the light will keep shining between 30 minutes to 24 hours, depending on your settings.
How to set up the Mid-Century Design Friendship Lamp by Filimin
When it comes to installation and setting up the lamp, Filimin stuck to the same procedure as with the two other laps reviewed previously:
Make sure to plug the lamp
Go to Filimin.com and create a profile
Register the purchase of your lamps
Connect them to a stable WiFi
Invite friends and family to join your group
Features
The long-distance lamp in wood is especially great for couples who love having a tiny piece of nature in their homes. Every time you touch the lamp, you will remember how much you and your partner love spending time together out in the open.
Like the two lamps mentioned above, you have 256 colors to choose from and very customizable settings to make the experience even more enjoyable.
You can set your colors according to where you'd like to be at that moment with your partner.
For example:
Bright yellow for under the Sun
Deep blue for near the ocean
Light green for under the trees
You can make it all sort of fun!
WiFi Touch Lamp by Tactus
Another beautiful-looking touch lamp comes from Tactus. It's a fantastic long-distance lamp that allows couples, friends, and families to stay connected even with thousands of miles between them.
We Love
Handmade in Europe
Many designs to choose from
Personnalized lamp possible
Extremely easy to set up and use
You can connect an unlimited number of lamps together
Connects with WI-FI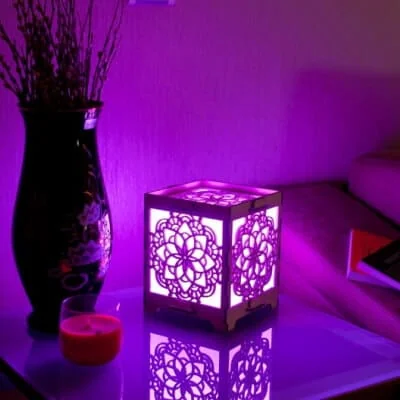 Look, size, and design of the product
The Tactus touch lamps are carefully crafted and manually assembled for a more elegant finish.
These LED lamps come in the form of a lantern and have a simple rectangular shape. The light is compact at 8 1/4″ x 5 1/2″ x 5 1/2″ in size and can be placed anywhere around the house.
The body of the lamp is made of high-quality play wood, and the inner walls are made of thin acrylic.
The great thing about the Tactus Touch Lamps is that you can design the look of your own lamp if you don't particularly like the offered designs!
Also, thanks to the LED technology, you get to choose between hundreds of bright, vibrant colors and find the ones that suit you and your loved ones best.
How it works
Once you go through the instructions (read more about it below) and set your lamp, simply use your hand to activate it:
Touch the top or the sides of the lamp, and both your and your partner's lamps will light up in the color you chose.
When they receive your light message, they can touch the lamp on their end, and the color will change to the one they selected.
In case no one touches the lamp back, the light will slowly fade away within a couple of hours.
How to set up the Tactus Touch Lamp
The Tactus touch lamp needs to be plugged in and connected to the internet to work. Here's how to do it:
Make sure your light is powered.
Open your phone's Network connections and select Tactus-LDR-Lamp. Connecting the lamp will lead to a link where you will be able to set your preferred settings and choose colors.
In the next step, connect all the long-distance friendship lamps in the same group and assign colors to different members.
You can also use the remote to control and adjust the lamp light modes, brightness, and colors.
Now you are ready to send some love and tell your loved ones you are thinking of them.
Features
When it comes to customizability, Tactus took the game to a whole other level:
While they offer many preset designs you can choose from, you can also contact the manufacturer and work out your own design!
You can keep it intimate with your partner, and connect just two lamps, or you can form a bigger group with your friends/family.
What makes the Tactus lamp even more unique than the rest of the long-distance friendship lamps is the eco-friendliness of the plywood they are made from.
Like all high-quality lamps, you can choose between hundreds of different colors that your Tactus lamp is preset to include. Each member of your group can have a different hue assigned to it.
Another great feature is the remote control the lamps come with. You can use it to adjust the lamp's color settings, light modes, and brightness.
The lamps don't require batteries or recharging. However, they are made in Ukraine and come with a standard European power plug. If you live in the USA, Canada, or Japan, you have to use them with an adapter.
The manufacturer also includes a 12-month warranty. In case of malfunction, they will send you a replacement or issue a refund.
Things to Consider Before Buying a Friendship Lamp
Long-distance friendship lamps are super simple to use and can brighten up your day when feeling lonely.
Here are a few things to consider before you decide to buy any of the lamps on the list above.
Power adapter
The type of power adapter a lamp comes with is especially important for people who live in different countries or even continents.
Why?
Different places use different electrical standards.
Your chosen touch lamp's power plug might not be a match for one or either of your locations. Make sure to check this feature and buy a suitable power adapter if you need it.
WiFi Availability
All friendship lamps connect via the internet and require a stable WiFi connection. If you don't have a good connection, you may not get to enjoy all the benefits these lamps have to offer.
Another detail you have to pay attention to is the WiFi band. There are two bands – 2.4GHz and 5GHz, but not all lamps connect to both of them.
Before purchasing, check which band you and your partner are using to make the most of the lamps.
Glare Feature
If you or anyone else using the LDR touch lamp is light-sensitive, make sure the light you are choosing has adjustable glare features.
Size and Style
Long-distance lamps are great communication devices, but also make a stylish decor piece.
Before purchasing anything, check the size of your preferred lamp to make sure it fits the spot you chose for it.
Also, think of your partner's/friend's/parent's style and taste. It will help you choose the best lamp for both of you.
Usage
If you are not only separated by miles but also by time zones, you might not get the best of this device.
There are also a few other situations that might put you off buying and LDR lamp. If you are a student in shared housing or a deployed army officer, you might have difficulties setting up the product.
Budget
Are long-distance friendship lamps cheap?
Well, like with any other product, they come in different price ranges.
Premium touch lamps use modern technology and high-quality materials. Plus, they are handmade and manually assembled, so they won't probably be the cheapest lamps you find on the market.
Lower-priced lamps, on the other hand, may be made of lower-quality materials like plastic, but can still look stylish and edgy.
Why Should You Buy a Long-Distance Touch Lamp?
We live in a hectic world, and sometimes staying connected can be easier said than done. Separated by distance and time zones, it's also hard for partners and loved ones who live far away from one another.
This is why long-distance touch lamps are a great product:
They help you stay connected with the people you love the most!
Whether it's a partner, a friend, or a parent, an LDR touch lamp will make them feel loved and cared for.
Long-distance lamps also make a great gift for elderly parents and grandparents.
Or, if your kid is afraid to fall asleep alone in the dark, you can use it as a system to communicate when they need your presence.
Once they send you a signal, you can tap the lamp on your end and send the "I'm here honey" message. They will feel safe knowing you're around!
Frequently Asked Questions
What is the best long-distance friendship lamp?
Despite being very similar, every long-distance lamp model has something special about it. Whether it's the look, design, settings, or the way it connects, you can choose the one that works best for you. Filimin, Tactus, and FriendLamps.com are good options.
Do the long-distance touch lamps work?
Most definitely. Once you start using touch lamps, they quickly become your favorite means of communication with the people you love.
They work from any spot on Earth with a stable Internet connection and WiFi access. You and your partner can be oceans apart and still maintain a strong and caring relationship. And all with a single touch!
How to install a long-distance touch lamp?
Long-distance lamps need to stay plugged in and connected to a WiFi network to work. The setup and installations vary between different products. Some connect through a mobile app, and others require website registration.
But don't worry. Each touch lamp comes with detailed installation instructions that you can also find online. You won't have any trouble setting up your lights!