Skype sex for couples in a long-distance relationship is a great way to spice up the relationship, be intimate, and maintain the connection even when miles apart.
Although having Facetime sex allows you to keep your sex life alive while you are away from each other, it can admittedly be a bit scary at first.
But what if I told you that there are ways to make it steamy in the bedroom without feeling awkward?
We're here to give you the nitty-gritty details of how to have Skype or Facetime sex the right way.
How to Prepare for Skype Sex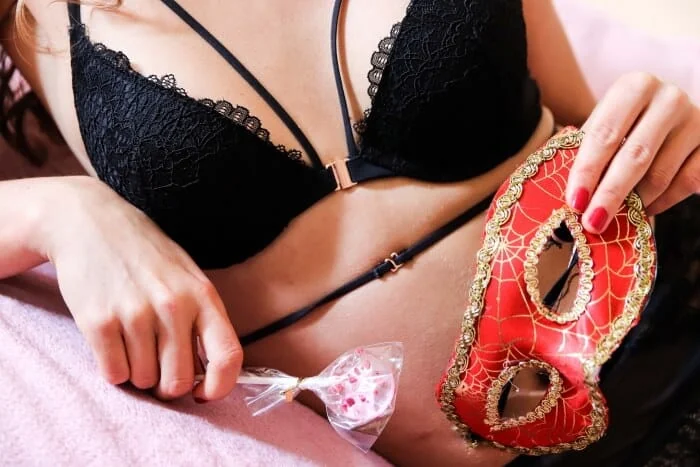 First, why is it important to prepare for Skype sex?
Well, not everyone is cut for video sex, and it is up to you whether you'll enjoy it or make it awkward and uncomfortable.
First comes the mental and emotional part of the preparation. Remember, you should only do things you are completely comfortable doing. If showing your face on camera upsets you, then don't do it.
You are the one who sets the rules. It is important that you establish clear boundaries and keep yourself and your partner safe and satisfied. In other words, Skype sex requires a lot of trust!
Another thing to remember is that video sex should be as personalized and intimate as real-life sex.
To keep things running smooth and steamy, here are eight ways you can prepare for a Skype sex session.
Choose the Right Platform
I know it's a bummer, but many popular video-supporting platforms like Skype, Facebook, Instagram, Google Hangouts, and Zoom have policies against nudity.
So, it's probably a good idea to stick to apps like FaceTime, WhatsApp, Signal, or Viber, which are secured with end-to-end encryption for your cyber safety.
Get a Preview to Make Sure You're Comfortable
When you are new to video sex, it can be a big deal whether you've been in this relationship for years or you are just starting and want to impress your partner.
There's nothing bad about wanting to look good for your significant other. All you have to do is open FaceTime and use the front camera to get a preview of how you look.
Find your good angles and work them like a pro! It's all about the visuals.
Set the Mood
Whether you are being physically intimate or getting naughty with the help of the internet, the right atmosphere is everything. And nothing sets the mood better than soft candlelight and luxurious bedding in combination with bomb underwear.
If there is lingerie your partner particularly loves seeing you in, feel free to wear it under your work clothes. You can sneak out to the bathroom and take a few steamy pics that will make them think of you all day long.
Clear Your Schedule
Make sure you have plenty of time for your upcoming Facetime sex session so you will not be bothered by ringing phones.
This is one reason why planning is so important! Get all work completed that needs to be done for the day, choose a time when you have a two to three-hour window at least, and make sure you're in an environment where nobody else can disturb you.
Check Your Internet Connection, Your Webcam, Microphone, And Camera
You need to make sure that everything is up and ready to roll. Test out your webcam, camera, speaker, and microphone before your session.
Also, ensure that your internet connection is stable – few things can ruin the mood of thrilling virtual sex more than a screen that becomes fuzzy or a Wi-Fi connection that turns spotty.
Do Whatever You Need to Get in the Mood
In other words, do whatever you can to put yourself in a sexual mood. Only you know what turns you on, but some ideas worth a try include:
reading a sex book
listening to erotic fiction
sending flirty text messages
writing down your sexual fantasies
watching movies with your favorite sex scenes
Dress for the Occasion to Feel Sexy
Let's put it his way: just as you would dress to prepare for a real-life date and sexual encounter, so you should do for a virtual one as well.
For men, you can dress in nice polo and trousers (or even a complete suit) as if you were preparing for a date. For women, you can wear a nice dress with makeup and skimpy lingerie underneath.
And remember, you can always have a virtual date with food and wine first before taking things to the next level!
Build up the Tension
Pick a date with your partner, and then steadily build the mood until the date of your sexual rendezvous arrives. The best way to do this is to exchange flirty text messages throughout the day.
There are many good sexting ideas for long-distance relationships, but a couple of examples include:
"I haven't concentrated all day thinking about you."
"I've been bad, and I want you to punish me."
What other ideas can you think of?
How To Have Skype Video Sex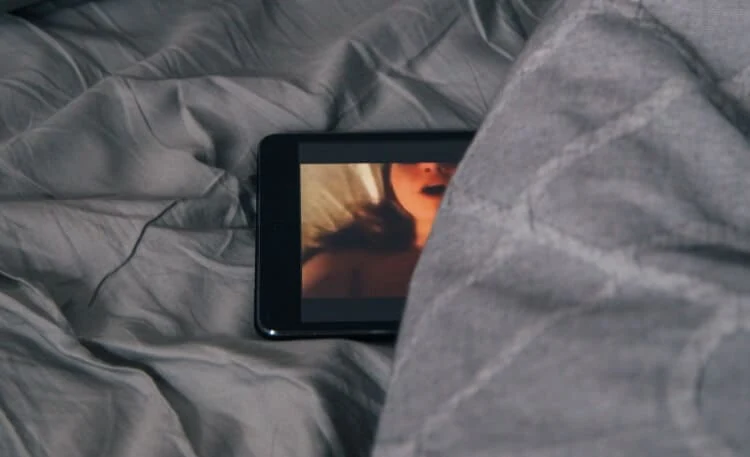 The above preparation tips will certainly help boost tension, but in the end, it all comes down to what you do for the video sex itself.
If you're at a loss for ideas on what you can do on camera in front of one another, well, read on if you dare.
Get Comfortable And Communicate
Perhaps the most important tip of all is only to do what you and your partner are comfortable with.
Dirty talk can definitely help during video or phone sex, but it's not part of the real communication that needs to happen before you get down to business. Talk and listen to one another, and set parameters about what is and isn't allowed.
Encourage your partner to open up and express what they like and what they are willing to do and say during your steamy sesh. That way, you will avoid awkward silences that will kill the mood in no time.
Tease Them
Do you want to add even more to the sexual tension and stimulate your partner's imagination? Well, a little striptease can make them burn with desire!
To take things to another level, choose lingerie they like or have an intimate connection with. Drop a pair of panties on the floor and take a pic (if you are camera-shy), or go all out and give them the full experience. It's totally up to you how far you want to take this!
Be Patient
I know that you might be sexually frustrated in your long-distance relationship if you haven't seen your partner in months. But, really, being patient is very important to make you and your partner comfortable.
If there's anything you really want to try but your partner is not too excited about (or vice versa), the best advice is to be patient. As you do more sexual things on camera, the more comfortable you'll get, and therefore more open to trying new things.
Play a Sex Game
There are so many video sex game ideas that we can't list all of them out here, but one of our favorites is truth or dare. All you need to do is add a naughty twist to this classic game.
For truths, you can ask your partner:
"Tell me in detail about your first sexual experience."
"Do you prefer to dominate or be dominated?"
"Have you ever watched another couple have sex?"
"What is a fantasy you've always wanted but never experienced?"
For dares, which can get even more interesting, you can dare your partner to:
Dance naked to a song of your choice.
Slather whipped cream or chocolate on different parts of their body and then lick it off if they can.
Briefly go over to a window naked, or (if you're really feeling risky) go completely outside naked before quickly coming back in.
Explore Some Fantasies
While you may not be able to explore fantasies that involve real sex in the same room, there are still plenty of fantasies you can do over the video, right?
For example, you could role play that you're a director directing your actor/actress partner on a nude scene. Or, you could role play that you're a doctor holding a virtual checkup who needs to have your patient/partner undress for an examination.
Use Long-Distance Sex Toys
There are many kinds of sex toys designed specifically for long-distance couples to help simulate remote sex or masturbation. These toys connect wirelessly via a mobile app and can even be used to control one another's movements.
With the app, you can send movements and pulsations to your partner's toy, so they gradually feel greater pleasure and eventually experience an incredible orgasm.
Watch Porn Together
Do you really want to get into your dirty side? Watch the same explicit porn clips simultaneously, and then comment on what you see or what you like to one another as you watch. Porn is always more exhilarating when you watch it with another person.
Explore Your Dirty Talking Skills
This is more of a foreplay idea, but it certainly will put the mood in the right place: just talk dirty to one another throughout your rendezvous. Simply saying, "I want your eyes all on me" or "I want you to make me come" helps your partner feel desired.
Do Not Get Too Serious
Besides experiencing intimacy with another person, the whole point of sex is to enjoy one another. Don't take things too seriously, and remember you can do literally anything you want. Have fun, laugh, and play!
Get Naugty in Different Places
No place is off-limits when you have video sex. Well, you probably shouldn't be out in public, but you get the idea.
For example, who says you have to stay in the bedroom? One idea would be to watch each other take a bath or a shower. You could also turn it into a game where one of you takes a shower, and the other directs you on what to do.
Another idea is to head to the kitchen. Simply doing the dishes or cooking food completely naked while your partner watches can be a major turn-on.
Summary
The above Skype sex tips can help keep your LDR alive with physical intimacy even when you are not together.
If there's one final piece of advice you should know, it's 'Be creative.' There are probably a lot of other sexy ideas we haven't mentioned here that you can try over webcam with your partner as well.
Check out the best romantic long distance relationship sex gifts we selected for you! What is stopping you from giving any of them a shot?